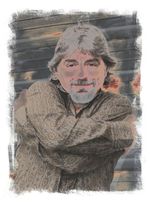 This story begins back in the winter 1978 when I became reacquainted with my Dad (Bucky Meadows). I found him to be the consummate musician. He chose to live the life of a pauper, never selling out his artistic values. Needless to say, my life experienced a culture shock, that was intriguing and  thrilling as any wide-eyed 19-year-old could ever wish for. I was spending long hours in nightclubs and dancehalls trying to absorb every tiny nuance that this new life had to offer. Along with that, I was experiencing a new relationship with someone, Bucky, who seemed so familiar to me, although I didn't really know him. My life went from 55 to 150 mph in a matter of a couple of months. I was meeting musicians, club owners, booking agents and some really nice waitresses. Strangely, some of the older musicians remember me as a young child and at times there was a tear of joy in these men eyes when Bucky reintroduced me to them. 
One spring day in 1979, I got a call from Bucky. He said, "Hey boy! What you doing tonight?" I answered "I don't think anything." Then he said, "Well, we are going to see some friends tonight. I'll be over around four o'clock, okay?"
My response was "Cool, let's go!" Well, he showed up on time and after a big hug he said "we are going downtown to the Whitehall Hotel, Willie is playing at the Summit and we are going meet him there." I said, "Cool, let's go". So we packed up a couple of guitars (Bucky never went anywhere without a guitar) and off we went. Now at this time in history, Willie Nelson was as about as hot as you can be in the music business yet, somehow I was very calm. 
*It is important to understand that Willie was the base of my initial involvement to the music world prior to this. Even before I actually knew Bucky had worked with him or even before I really knew Bucky, I had grown fond of Willie's music. My first purchase was "Stardust" and I instantly became a big fan. I just wanted to let you know that my calm manner was not due to my lack of appreciation.
We arrived at the Whitehall Hotel and found a place to park. I had noticed a tour bus parked in front of the main entrance and I wondered if that was Willie's bus. Bucky lit a cigarette and we proceeded to walk to the front door of the hotel. I of course was watching his every move and it appeared he was very excited as if a child waiting to open Christmas presents. He ran his fingers through his hair a couple of times and took a few drags off his smoke before he tossed on the sidewalk crushing it with his shoe. We then entered the hotel and were consumed by this vast lobby. Our pace came to a crawl as we were unsure which direction to go. Then I heard a voice that interrupted the silence, "Bucky!" Then another followed, "Bucky!" Bucky looked to this group of men and with a big grin he said, "Hey Dickey" then they embraced in a hug. He turned to me and said, "This is my boy, Randy, and this is my friend Dickey Betts" he smiled and said, "This is the Allman Brothers Band, Dickey plays guitar." I was greeted with an outstretched hand and as my hand grasp his he pulled me into him and gave me a big hug." I said something like, "nice to meet ya" and then I shook the hands of the rest of the guys. Each one then spent a brief time with Bucky talking old times before they all piled out the door and loaded up on there bus. This all happened before we got twenty feet into the lobby. Bucky said, "Son let me buy you a drink." So, we headed in the direction of the patio bar. Low and behold, once again as we neared the area a voice piped out "Bucky!" Bucky turns to the voice and there Jody Payne and Bee Spears. I again was affectionately introduced and Bee insisted on buying us a couple or more cocktails. I remember watching the three talk, they all seemed enthused to catch up on what each has done since they last seen Bucky. I, of course, sat there bashfully with the occasional glance and smile from Bee and Jody. Bucky would slip into a story about me learning guitar and writing. It kind of embarrassed me because I still didn't consider myself worth mentioning to these season musicians.
I guess about 45 minutes passed when someone noticed that Willie's bus had pulled out front. You see the band has their own bus and they got to the hotel a couple hours ahead of Willie. Bee says to Bucky, "Go say hi Willie and happy to see ya" We got up and I followed Bucky outside. I don't remember who actually greeted us just outside the door of the bus but they hugged Bucky and said to hop on in. We climbed up the stairs into this beautiful bus; me tagging right behind Bucky like a puppy. I remember it was dark inside and my eyes were still adjusting from the bright sunlight outside. Bucky then walked towards the rear of the bus and as he did I heard him speak in his Mexican gibberish, which is quiet convincing that he is speaking real Spanish. I then heard a voice echo back the same Mexican gibberish, followed by "Hey Bucky Meadows." As my eyes began focusing through the darkness, I could see rising from a bunk a figure. The figure stood up and embraced Bucky. He said, "How are you, Bucky? Bucky said "Good, Hey Willie I want you to meet my boy" He turned towards me. He and Willie were both looking straight at me. "Willie, this is Randy, son this is Willie" he said with such a proud look on his face. Willie shook my hand and said, "He looks just like ya Bucky. Bucky's response was "Yep I gave him a guitar six months ago now he is making more money then me".  Willie laughed and continued to stare at me. After some small talk (and a joint) Willie said he needed to do an interview and said he'd meet us back on the bus in an hour. We once again went to the bar where Jody and Bee was still there but joined by Mickey, and some other people. We had a few more cocktails and ate some good food while the guys all laughed and joked. Soon, the time had come to board for the Summit. We entered the bus, which was lit up this time nicely with music playing along with several more people then before. Bucky found a place next to Willie and I sat in a place next to someone I bashfully met. The laughter was loud and the smell was a mixture of cologne and weed. Then I notice another passenger coming up the stairs and when he got up I seen a face that would almost be unmistakable to identify. The long silver hair and the tall straw hat moved down the isle as the people all shook his hand and greeted him. He got to Willie they shook hands and Willie then introduced him to Bucky. "Bucky this Leon" Bucky shook his hand and Leon Russell said "I know Bucky", then they both shook hands. Willie then said "Leon this is Randy, Bucky's boy" Leon looked at me reached out to shake my hand then flopped down right next to me. I sat there quietly while they talked, laughed and passed that foul smelling cigarette around. Moments later again someone appears through the door of the bus, a beautiful woman that I soon recognized to be Mary Russell, the wife of Leon. I offered to give her my seat next to her husband but she said to stay put. She wanted to talk to Lana Nelson, Willie's daughter.
I sometimes try to put myself back to that place 23 years ago in the effort to recall how I felt. The only thing I remember is that I kept telling myself to not say something stupid. I was, as one might think, a little overwhelmed but I wasn't too awestruck to not enjoy the moment. The sound of the bus starting up and rocking as we weaved our way through downtown Houston was exciting yet, strangely relaxing. There I was looking across at Willie and Bucky laughing like two mischievous school kids and I was sitting next to Leon Russell, who appeared to be in some sort of trance. What a great business this is. I am going to enjoy my career. What could be better then this. All these things were rolling through my mind. Then a soft tune started faintly scrolling through my thoughts. "Blue skies smiling at me, nothing but blue skies do I see" then I realized something I only thought was a myth, Contact High!!!  Although I didn't partake in the numerous joints floating around, I still got a buzz. When that lovely Gershwin song finished another popped in, "Are we really happy here in this lonely game we play" Wow!!! The dude that wrote that is sitting right next to me. 
Well, we finally arrived at the Summit and the bus emptied to the large backstage area. Bucky told me if I wanted anything a drink, just go to one of the three barrels located around the back stage area and get whatever you want. I settled on a Lone Star and after meeting another twenty to thirty more people I found a nice little place right next to the main speakers on the left side of the stage. As the lights went low, a thunderous roar as the excitement from the crowd grew tenser. I could see the band get in position and Willie strapping on his guitar. Then the twang erupted on his trademark opening song, "Whiskey River, take my mind, -- Don't let her memory torture me" I sat there sipping on a Lone Star and watched a master at work. Occasionally, Bucky would find his way to where I was and check to see if I was all right. He would see that I was fine and then he'd fade out into the darkness backstage only to show up again later. About 30 minutes into the show Willie introduced Leon Russell and they did a few songs from their new album they had done together. Mary Russell then came out and sang a couple of beautiful numbers. Then after another hour of Willie magic, he closed with "Whiskey River" I had watched the entire show from about 35 feet away. We all congregated back where the buses were parked everyone laughing and rejoicing at the success of a wonderful show. Bucky and I climbed on the bus and just as we arrived, we left as if we all went back to our assigned seating. Once again I was wedged between Leon and Mark Rothbaum, Willie's manager. We arrived back at the hotel and after short good-byes everyone scatter off to their next destination. Willie asked Bucky, "You and Randy want  to come up with me?" Bucky nodded and we then followed him up to the top floor where we entered the Presidential Suite. I at that time had only stayed in motels and an occasional Holiday Inn. This was as plush a suite as I could have imagined. One like I have only seen in movies or TV programs. There I was introduced to a tall stunning blonde. Bucky was so excited when he introduced me to this woman, "Connie, this is Randy my son" She was shocked and I noticed an emotional quiver on her lip. She hugged me and said "He always talked about you, I am so happy to meet you Randy" She then introduced me to two small children, Paula and Amy Nelson, her and Willie's beautiful offspring. I glanced at Bucky and he had tears in his eyes. He was so proud to share his new joy with his very dear friends. I realized that all day long while I was surrounded by these mega stars in the music business I was often times the star of the show. I was treated as if a prince was present. I felt the love from Connie and Willie. After some time passed Bucky nudged me and said "We better go son, Willie needs to get some sleep." After a sleepy goodbye we left the hotel and proceeded back to my small apartment in Pasadena. I was tired, but excited.  I do remember sleep was welcomed. As I awoke the next morning I instantly remembered the events and I wondered if it was dream or did it really happen. I scurried to the bathroom to relieve my bladder and I saw my blue jeans lying on the floor. On the paints leg was the backstage patch that I had received from Poodie. Wow! It was not a dream. And as my career continued on through the last 23 years I often times would wake up with that question in mind, am I dreaming or was that real? 

Thanks for reading my first story on my new website. I promise to share many more interesting stories and tales as the years go on. -------------------------------------------------------------------------------------------Randy Meadows